Booking Dates & Guests
This property allows Free Cancellation
Valid for stays in any country until 31 December 2023
Book before 31st October 2022
Guests can cancel free of charge for up to 43 days before the arrival date.
About this home
Resting near the Paradiski ski area, this spacious chalet in Vallandry is ideal for a large family or a group. It can accommodate 10 guests and has 5 bedrooms. It has a furnished balcony for you to enjoy home-cooked meals and relax in the open air.

To enjoy a scrumptious meals, the nearest restaurants are at 200 m. Forest lies 300 m from the stay if you wish to spend a day out in the nature. The local grocery store is 300 m from the chalet.

A fireplace and indoor heating facility are provided for your convenience. The open kitchen has oven, microwave and dishwasher to cook lavish dinners and enjoy them together.

The guest can check in between 4-6 PM and checkout between 9-10 AM.
Specifics
Concerning COVID-19: Guests for this holiday home are only accepted if they can comply with the COVID-restrictions and requirements as implemented by the local government. Please do check the restrictions again shortly before departure as the COVID-restrictions change over time.
Please note that there are COVID-19 measures in place. Different conditions may apply regarding ski passes, opening hours and the use of the ski lifts in the winter sports areas. We advise you to take this into account when booking your holiday home since a change in restrictions in general is not a valid reason to cancel the booking free of charge.
Amenities
Ground floor
TV (satellite), Dining table, Fireplace, Seating area, Stereo unit, Balcony
Hob, Electric kettle, Hood, Coffee machine, Oven, Microwave, Dishwasher
On the 1st floor
Shower, Washbasin, Toilet
Basement
Bathtub with shower, Washbasin, Toilet
Ski Area
Ski Area
Paradiski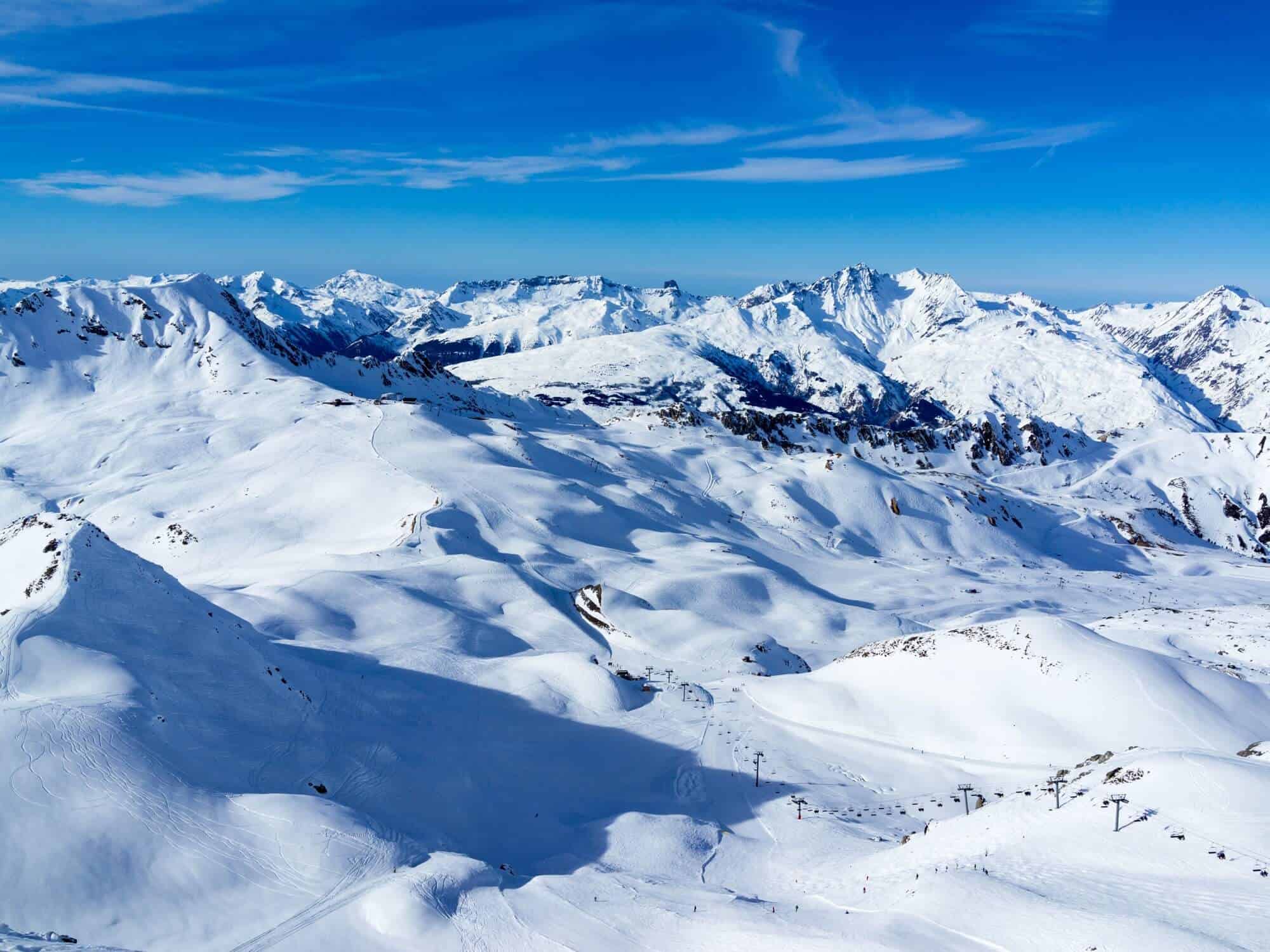 Paradiski
Cross-country Skiing
Total: 153km
Click here to view nearby places
Public Indoor Swimming Pool
Ratings & reviews
Stayed 1 week
6 months ago
Een fijn chalet op een prima plaats en voorzien van alle gemakken. Prima accommodatie om met familie of vrienden naartoe te gaan. Wij hebben voor de derde keer genoten van dit huis.
Stayed 1 week
7 months ago
Het was een huisje dat paste als een oude jas. Meteen vertrouwd. Goed ingedeeld voor 10 personen, geen gedrang bij de wc. Fijn dat er een droogkast was voor de skis. Lekker warm, geen behoefte aan de openhaard. Lekker ruim balkon. Wel een beetje verwaarloosd in de kleine dingetjes, maar de mensen van het beheer pakten dat erg snel op. Wel jammer dat ze na het begin van de week moeilijk te bereiken waren ivm met de broodbestelling dien steeds bijgesteld moest worden. Lift was dichtbij, maar wel even een klim. Moeilijk informatie te krijgen over de bus naar Landry. Over het geheel een aangename vakantie in een relatief rustig dorpje
Sehr geehrte Damen und Herren, offensichtlich ist es Ihnen garnicht aufgefallen, dass wir die Reise nicht angetreten haben. Coronabdingtes Chaos in unserem Postkorb(2 Buchungen für dassselbe Haus zum gleichen Zeitpunkt/Anreise in ein Skigebiet in dem nur 8 Lifte geöffnet hatten und ruckzuck war die Gutschrift aus dem Vorjahr nicht mehr gültig. Sie können mir 500€ bitten und ich würde keine einzige Minute Urlaub mit Ihrem Unternehmen verbringen. Abzocke hoch drei nennt man das Mitz freundlichen Grüßen
Stayed 1 week
3 years ago
Leuke woning met lekker groot terras. Leuke gastvrouw die veel tips kan geven over wandelingen en andere uitjes.
Stayed 1 week
3 years ago
De aankomst was prima geregeld. We waren wat later door verkeers drukte maar dat was geen probleem. Ook een welkoms pakket was erg leuk. Het huis was prima, schoon en voldoende ruimte voor 9 volwassenen. Wij hadden een Locker voor onze ski's gehuurd via de organisatie waardoor we de ski's onderaan de lift konden achterlaten en die 300 meter naar huis konden wandelen op onze gewone schoenen met de skischoenen in de hand.
Stayed 1 week
3 years ago
Na 3 jaar weer teruggekeerd naar dit fantastische huis.. Het nieuwe ruime terras op het zuiden, de nieuwe keuken en de vide die nu slaapkamer is geworden, was voor ons een aangename verrassing. Wederom een skilocker gehuurd boven in het dorp via de receptie. Echt top! Scheelt een hoop gesleep. De broodjesservixe 's-ochtends was ook weer goed geregeld. Samen met het waanzinnig mooie weer hebben wij weer een top vakantie gehad. Misschien tot volgend jaar!
Stayed 1 week
3 years ago
Vriendelijk ontvangst met uitgebreide informatie. Huisje was in perfecte staat en erg schoon. Met ski spullen naar de piste lopen is goed te doen alleen is het wel bergopwaarts. Helaas geen skilocker aan of in het huis
Stayed 1 week
4 years ago
Goed gelegen chalet, vlakbij de piste, skischool, supermarkt Ideaal voor twee gezinnen met kinderen Prachtig zicht op de bergen zeer rustig gelegen aanrader!!!
Stayed 1 week
5 years ago
Le Placement ligt prachtig, met uitzicht op de Mont Blanc. Wij vonden het een gezellig huis, met in de woonkamer net genoeg ruimte voor negen personen. Vier van de vijf slaapkamers zijn wel erg klein. De bedden zijn daarentegen weer prima. We misten wel een ruimte waar we onze ski's en skischoenen konden laten. Paradiski is een heerlijk skigebied, met voor gevorderde skiërs volop uitdaging. Vallandry is een klein skidorp, met alle voorzieningen op loopafstand. De skilift is op loopafstand. De ontvangst was prima en gastvrij.
Stayed 1 week
6 years ago
Mooi gelegen ruim vakantiehuis en vlakbij het centrum, de pistes en de skilift waardoor we een heerlijke skivakantie hebben gehad. Willen er zeker nog een keer naar terug mits de prijs acceptabel blijft in het hoogseizoen
Stayed 1 week
6 years ago
door nabij gelegen skiliften voor skiërs een goede uitvalsbasis, midden in Paradiski. Ook voor niet skiërs leuk door leuk dorpje, goede wandelmogelijheden vlakbij.
Stayed 2 weeks 1 day
8 years ago
Het was een mooi huis, maar wel wat krap voor 10 personen. Het was ook niet helemaal schoon, terwijl er een ontzettend hoog bedrag voor schoonmaak betaald moet worden. Het huis staat prachtig en de omgeving en het uitzicht is schitterend !
Stayed 1 week
8 years ago
Lekker huis in mooie omgeving. Met 10 personen zou het wel krap zijn, maar met 6 volwassenen en een kind helemaal prima en ruim!
Stayed 1 week
8 years ago
Wat een prachtig en lekker ruim chalet. Goede service. Aardige mensen.
Stayed 1 week
9 years ago
Heerlijke vankantie gehad
Stayed 2 weeks
10 years ago
- Schitterende omgeving, veel mogelijkheid om te wandelen en te mountainbiken - Weinig mogelijkheden om te zwemmen - Niet erg geschikt om dagtochtjes met de auto te maken en stadjes te bezoeken (Dagtocht naar Italië was mooi!) - Bij het huis geen mogelijkheid om buiten te zitten relaxen of om buiten te eten.
Stayed 1 week
11 years ago
Chalet très agréable, avec une grande pièce à vivre pouvant vraiment accueillir 10 personnes dans de bonnes conditions. Aménagement de qualité qui rend le séjour agréable. Situé dans une bonne station de ski, bien reliée au domaine des Arcs.
Less than 60 seconds wait time